Introduction
This workshop is designed for kindergarten, nursery and primary school teachers who wish to improve their proficiency in English language and who seek for enhancement in teaching English for toddlers and primary school children.
Overview of the Course
English is a crucial subject in the Malaysian education system from kindergarten to tertiary level. In order to maintain the quality of teaching and learning English, the English subject teachers are normally required to have English education background. However, at the lower level like kindergarten, majority of the teachers are not required to have a diploma or a degree in education of Teaching English as Second Language (TESL). The requirement that a kindergarten teacher must have is at least a diploma in Early Childhood Education. Thus, in order to fill in the gap, a short course has been designed for the target participants that will provide them with the knowledge of teaching methodology in various English skills which are reading, writing, speaking, and listening. Besides that, this course also focuses on enhancing the teacher's proficiency in the English language that includes grammar, pronunciation and speaking skills.
Why this Course?
What makes this course special? "Empowering Teachers: Teaching English for Pre- and Early-schoolers" workshop is different than the other English proficiency courses because it does not solely focus on English proficiency. This course is specially designed to enhance the teaching skills as well as teaching approaches of the early-childhood and primary school teachers. Another specialty of this course is it will also focus on English phonetics and phonology that will enable participants to teach reading more effectively. Many researches have proven that reading influences student's academic achievement, in which the findings show that being able to read increases student's performance at school.
The diagram below illustrates the course design.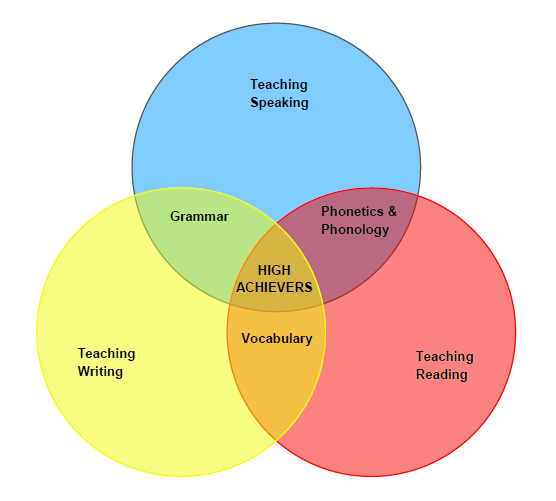 Diagram 1: Course design
The Objective of the Course
Overall, this course is to enhance participant's English proficiency level and teaching skills by focusing on the methodology of teaching English.
The other objectives are:
At the end of the course, the participants should be able to:
Identify and implement a variety of teaching approaches,
Clearly define their personal approach into teaching approach and methodology,
Use good command of English language, and
Effectively apply the English pronunciation skills in teaching and speaking.
General Information about the Course
Duration / Schedule

3-day course
Day     : Weekdays
Time   : 9.00 am – 5.00 pm
Date    : 19 December 2018 – 21 December 2018

Target Participants

Malaysian kindergarten, nursery and primary school teachers.

Training Methodology

Group discussions, presentations from the trainer and participants, problem-solving tasks, and practical language teaching training via micro-teaching sessions.
Module Details
As explained earlier, this course will focus on English proficiency and also teaching methods and approaches. Thus, each module is designed to enhance the participant's proficiency level as well as their teaching methods. Below are the details of the module:

* Each of the teaching methodology modules focuses on teaching kindergarten children.
Day

Modules

Duration

Sub-Topics

Day 1

Phonetics and Phonology

2 hours

Introduction to English International Phonetic Alphabets (IPA).
Phonemes and articulations
Methodology of teaching phonetics and phonology

Grammar

2 hours

Parts of speech
Tenses
Methodology of teaching grammar

Microteaching

2 hours

 

Practical exercise on the teaching methodologies learnt in earlier sessions.

Day 2

Vocabulary

2 hours

Parts of speech
Dictionary technique
Methodology of teaching vocabulary
Keyword approach through:

     - Nursery rhymes
- Story telling

Teaching Reading

2 hours

Micro and macro-skills for reading comprehension
Reading material selection
Methodology of teaching reading

Microteaching

2 hours

 

Practical exercise on the teaching methodologies learnt in earlier sessions.

Day 3

Teaching Speaking

2 hours

Micro- and Macro-skills of oral communication
Targeted speaking performance for children
Principles for teaching speaking skills
Asse  ssing speaking in the classroom

Teaching Writing

2 hours

Sentence structure (SV, SVO, SVE, SVC)
Methodology of teaching writing

Micro-teaching

2 hours

 

Practical exercise on the teaching methodologies learnt in earlier sessions.
Course Fees
Standard – RM 859 per pax | 3 pax & above – RM779 per pax | Further discounts is available for larger groups.
The full fee is required with your registration. The fee includes luncheon, coffee/tea breaks and course materials.